Earth Enhancing Compounds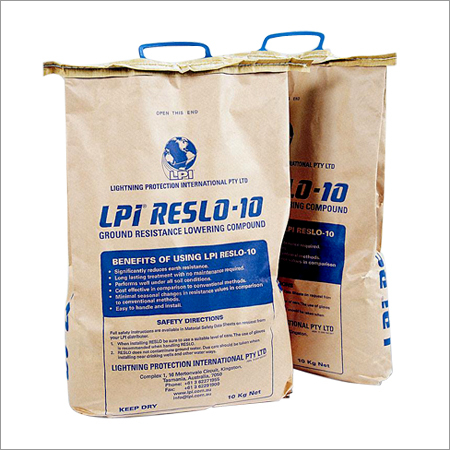 Earth Enhancing Compounds
Product Description
Aided by modern techniques and innovative equipment, we are able to manufacture, supply and export Earth Enhancing Compounds. These products are used for the effective treatment of soil in order to reduce soil resistivity and ground impedance. Mixed with water, these products form a gelatinous mass that does not lose its dimensional stability. Owing to the efficient and accurate performance, these products are highly applicable in mountainous areas and sandy soils. Earth Enhancer Compounds are delivered to the clients in a designated time frame owing to our expert C&F agents.
Other Details:
The requirement for a low resistance is extremely important with the installation of any earthing system. Earth Enhancer Compound provides the ability to dramatically reduce soil resistivity even in soils with average electrical conductivity. It comprises specifically selected compounds, which possess excellent electrical conductivity. When earth enhancer compound is mixed with water and poured around the earthing system and surrounding soil the powder and water react to form a hardened mass within an earthing system. Earth Enhancing Compound will not wash away under seasonal conditions and therefore provides a permanent presence in working to improve and maintain the integrity of an earthing system.
Given that Earth Enhancer Compound does not wash away the requirement to re-treat the soil as is the case with other enhancing compounds is eliminated. Earth Enhancing Compound is supplied in multiples of 10kg-packaged bags to suit the site application. These packaged bags have full installation and handling instructions and combine a plastic handle and HDPE plastic liner for ease and safety of handling.
Features:
Effective in all soil conditions
No maintenance required
Technical Specifications
| | |
| --- | --- |
| Usage | Laboratory |
| Packaging Type | Bucket, Bags |
| Brand | LPI |
| Grade Standard | Analytical Grade |
| Physical State | Powder |
| | |
| --- | --- |
| Ordering Code | RESLO-10 |
| Description: | Resistance Lowering Compound |
| Application: | To lower the DC ground resistance and impedance |
| Weight | 10kg |