High Voltage Shielded Cable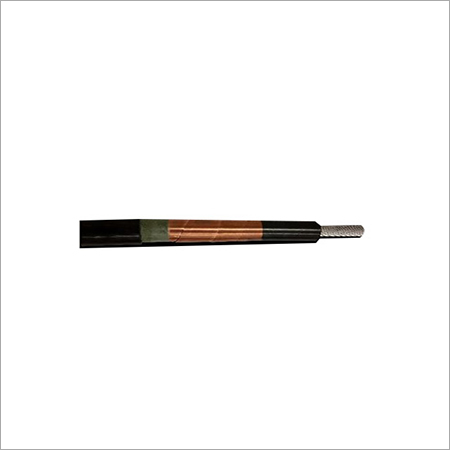 High Voltage Shielded Cable
Product Description
HVSC Plus is designed and developed to handle lightning transients. The design feature of this concentric conductor involves annular design production with the use of cylindrical filler material for the inner conductor. It is possible to optimize the design in order to carry high-frequency/ transient currents, which are lower inductance and allowance for the Skin effect. The size of inner conductor's cross-sectional area complies with all lightning protection international standards. An insulation layer of adequate thickness can withstand voltages of a pre-specified level, surrounded by thin semi conductive, stress-control layers applied during a triple extrusion production process. Electrical fields are screened by conductive, copper-tape outer screen layer. Cable during handling, installation and in-service period is protected by PVC outer sheath or jacket. It can be installed to any type of structure, be it masonry, non-conductive, metallic or any other. It's performance will not be affected by the structure type.
There are two known geometries in which the voltage within the cables are divided, and these are:
Between the inner conductor and the screen
Between the screen and the structure
It is important to understand the cable parameters to control these voltages, for instance capacitance, inductance, phase velocity and impedance.
The overall diameter of cable is approximately 36 mm. Following are the components of HVSC Plus cable from the inside to the outside:
Solid, cylindrical, polyethylene filler
Inner conductor comprising copper strands (XSA 70 mm2)
Binder tape
Semi conductive stress-relief layer (conductor screen)
Polyethylene insulation (approximately 5 mm thick)
Semi conductive stress-relief layer (insulation screen)
Copper tape main screen
PVC outer sheath
Here are the steps to be followed in order to install cable:
During installation, it is important that it is adequately terminated at the upper end specific cut lengths of the several layers and then a high-voltage termination kit must be used.
It must be electrically shorted from inner-to-screen connection at the bottom end and bonded to the structure's base.
Its installation must not infringe on the minimum bend radius criterion.
Product Details:
Overall diameter: Approximately 36 mm
Withstand Voltage: 500KV
Impedance: 18 Ohm
Capacitance: 285pF/m
Inductance 93nH/m
Trade Information
As per requriement Per Month

Same Days