Lightning Strike Recorder LSR-2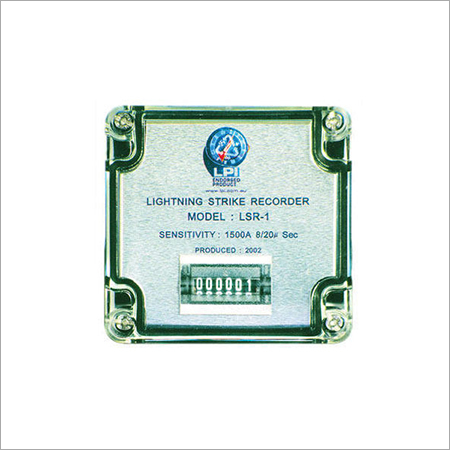 Lightning Strike Recorder LSR-2
Product Description
The company manufactures Lightning Strike Recorder in its technologically-advanced production facility for prestigious clients spread countrywide. This device can be used for maintaining record of every direct lightning strike on the external lightning protection system. The recorded impacts count can be read on the digital display (6 digits). The counting and recording of lightning discharges do not require any external power supply, as it works on electromagnetic impulse coupling. The lightning strike recorder (LSR1) can be used outdoors, given to its non-resettable type in an IP 67 enclosure.
Features of Lightning Strike Recorder LSR-2:
The LSR1 is operational for many years following its installation and commissioning
It has a sturdy design
Throughout its life, it performs impeccably
The functionality is unmatched
Installation:
The lightning strike counter is mounted on the down-conductor making use of two flanges situated on the back face. The down conductor doesn't has to interrupt, which allows an electrical continuity of the installation down from the rod to earthing system. Lightning current is recorded by the counter by induction when it passes to the down conductor. It quickly detects and records impacts of lightning that occurs over an lightning protection system installed outdoors.
Technical & Product Details:
Description: Lightning Strike Recorder
Brand: LPI
Model: LSR-1
Usage:Industrial
Dimension: 80mm (B) x 82mm (H) x 65mm (D)
Current sensitivity: 1500A
Operating range: Min. 1500A and Max. 220kA
Display: Mechanical 6 digits display (not re-settable).
Mounting: Adjustable SS cable ties to accommodate a cable up to 40 mm diameter cable or 50mm x 5mm flat tape
Construction: Polycarbonate enclosure
Colour: Light Grey
Environment: IP 67 (IEC 529)
Operating Temperature: -15 degrees Celsius to 65 degrees Celsius
Weight: 0.4 kg
Sensitivity : 500A
Other details:
6 Digits
Up to 999999 counts
Testable using LSR-Tester
Product details
| | |
| --- | --- |
| Operating Temperature | -15 Deg C to 65 Deg C |
| Sensitivity | 1500A |
| Usage | Industrial |
| Model | LSR-2 |
| Brand | LPI |