SPC PV-600 DS Lightning Arresters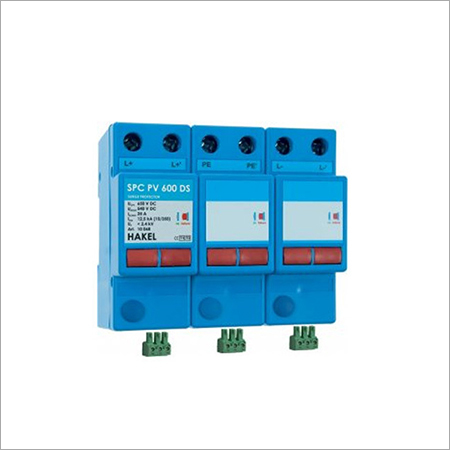 SPC PV-600 DS Lightning Arresters
Product Description
As per EN 61643-11, SPC PV is a type 1+2 lightning arrester, which can protect negative and positive busbars of photovoltaic systems from the surge effects. It finds use in the Lightning Protection Zones Concept at the LPZ 0-1 boundaries (as per the IEC 1312-1and EN 62305). L+, L- and PE terminals are used to connect particular varistor sectors, that have fitted internal disconnectors that activate when varistors fail or overheat. The disconnector failure is indicated to some extent by mechanical (red signaling target) and remote monitoring (potential free switching contacts).

Function of remote monitor terminals

SPC PV-600 DS Lightning Arrester's correct operations can be assured when the terminations 2-3 are normally open and terminations 1-2 are connected to normally closed contacts. In case of damaged internal varistor component due to thermal overloading, the terminations 2-3 are closed and terminations 1-2 are open.
Specification
| | |
| --- | --- |
| Brand | Hakel |
| Weight | 900 g |
| Arrester Type | Intermediate Type, Station Type, Distribution Type |
Max. continuous operating voltage UC 255 V AC
Lightning impulse current (10/350) Iimp 110 kA Nominal impulse discharge current (8/20) In 50 kA Voltage protection level Up< 2,5 kV Max. back-up fuse 500 AgL/gG