Stormaster Lightning Arrester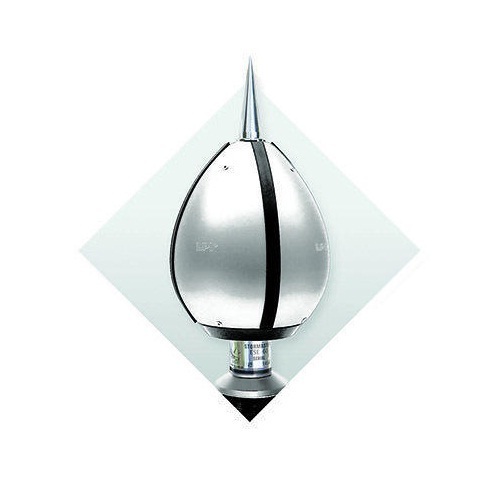 Stormaster Lightning Arrester
Product Description
Any facility can be protected from direct lightning strikes with the help of safe and efficient LPI Stormaster (Early Streamer Emission) range of terminals. At a preferred point, it capture the lightning energy.

Working of LPI Stormaster ESE Terminal
The Stormaster ESE air terminal makes use of naturally occurring electrical field for timely releasing an upward streamer. This is a safe and efficient process that can control hazardous lightning energy at a preferred point. The ambient electrical field surrounding it starts to rise in voltage as thunderstorm gathers overhead. As the downward leader approach towards the protected area, the electric field rises immediately and triggers an upward streamer from the Stormaster ESE terminal. The Stormaster ESE can protect larger area as compared to a conventional rod, according to the NF C 17-102 (2011). When the upward streamer is released from the finial tip, the Stormaster ESE terminal becomes an ideal point to capture the lightning discharge within the safeguarded area.

Certified Performance
The company is continually investing in the field and laboratory testing, as a part of its commitment to R&D. The proto-type models of Stormaster ESE were stringently tested under high voltage conditions. An independently test laboratory proceeded a final testing of Stormaster ESE according to the French National Standard NF C 17-102 (2011), and the results showed effective performance as mentioned in the Standard. The company manufactures and supplies transient voltage surge suppression, direct strike lightning protection, and earthing / grounding solutions. Apart from providing preventive solutions, the company has also been providing specialist lightning protection advice to customers in the parts of the world which are more prone to lightning. The personnel take care of all stages of the system, from risk management, design, training to installation and commissioning. There is a third-party Quality Management System to AS/NZS ISO 9001:2008 maintained by the company.
Product Details:
Weight : 6.0kg
Material: Stainless Steel
Arrester Type: Station Type, Intermediate Type, Distribution Type
HVSC Configuration:
7 Layer cable consisting of the following.
Inner Core
Concentric Conductor
Inner Binding Tape
Insulation Material
Metallic Screen
Outer Binding Tape
Outer Sheath
Concentric Conductor:
Nominal cross sectional area 90mm2
Sheath Thickness (Nominal):
3.00mm
Overall Diameter (Approx):
37mm
Weight of Cable:
2.050 kg per metre
Electrical Characteristics:
DC Resistance of conductor at 20oC (Max) Ohm/km 0.387
DC Resistance of screen at 20C (Max) Ohm/km 0.448
Insulation resistance at 20C (Min) M Ohm-km 1,830
Thermal Short circuit current (1 second) KA 7.15
Warranty:
1 Year